Used BMW 740i Engine (BMW Long Block Engine for 740i and 740iL ) E39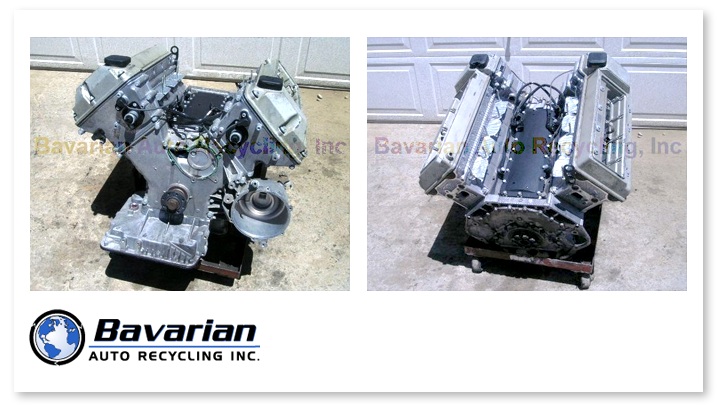 Used BMW 740i Engine dyno tested with 2 year unlimited mileage warranty starting at $3317.00
CALL 800-269-8970 to order now. Share with your friends
This BMW 740i Engine will fit the following BMWs:
1999 - 2001 BMW 740i 4DR (E38) 4.4L M62TU / Used long block / VANOS
1999 - 2001 BMW 740iL 4DR (E38) 4.4L M62TU / Used long block / VANOS
Our USED BMW 740i ENGINE assemblies include the oil pan, short block, cylinder head and valve cover only. Any brackets, accessories, or misc. parts that are attached to the motor are not included in the purchase price. Meaning... we do not charge extra for them. However, any additional parts left on the motor are not covered as part of the engine's warranty. Please call 800-269-8970 or EMAIL US with any questions.
Why buy your replacement BMW 740i Engines from Bavarian Auto Recycling?
We have an excellent selection of good running used BMW 740i Engines in stock and ready to ship.
Unlike other BMW engine sellers who are basically "BMW engine locators" (they must first find your engine at one of their partner companies then mark it up). We are a full service BMW dismantler -- We buy the entire BMW vehicle. There's no middle man markup, you're buying directly from the source.
Save 50%-70% off dealer prices by purchasing a quality used BMW 740i engine directly from Bavarian Auto Recycling.
Cleaned & Tested -- All BMW 740i engines are compression tested and leakdown checked. They are dyno tested at 1200 rpm to confirm correct oil pressure, expose oil leaks, and check for any abnormal noises while running. If they pass all of the above quality control tests, they are sealed up with cap-plugs, jet washed, dried, sealed in plastic, and palletized for secure shipment.
All used BMW 740i engines from Bavarian carry a 2 year, unlimited mileage warranty used BMW engine replacement guarantee.
Extended, Lifetime, and Labor coverage warranties are also available for those who would like additional protection
Used BMW 740i engine prices can fluctuate slightly due to supply and demand so please call (800)269-8970 to speak with one of our customer service representatives and receive a current price quote on a BMW 740i engine. Your quote will include a reference number that locks you in at the lowest price for 30 days - and makes ordering a snap. We can also ship directly to your BMW dealer or any BMW repair facility nationwide. Click here to see the used BMW engine applications, BMW part numbers, and our entire BMW parts catalog.